In a Facebook post on Thursday, the social network's founder Mark Zuckerberg expressed his "frustration" with the scope of the NSA's surveillance and bulk data collection programs.
"I've been so confused and frustrated by the repeated reports of the behavior of the US government," Zuckerberg wrote, adding, "When our engineers work tirelessly to improve security, we imagine we're protecting you against criminals, not our own government." Zuckerberg also noted that he has called good personal buddy President Obama to discuss reports of extensive snooping and data collection in bulk. 
Here's the full post: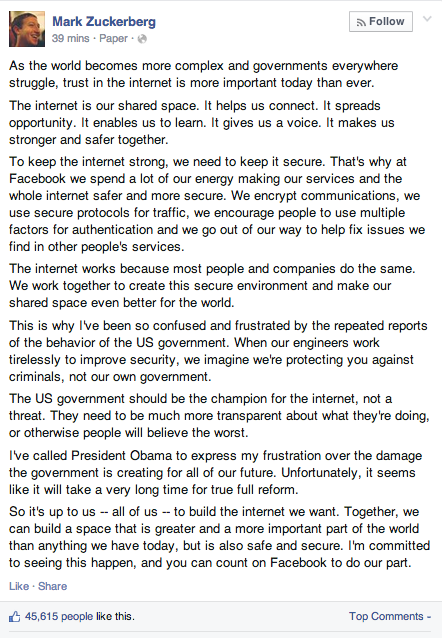 His comments come one day after a report at The Intercept, based on documents from Edward Snowden, detailed the NSA's efforts to create malware "implants" for millions of computers to aid in the agency's data collection efforts. Among other things, the agency reportedly "masqueraded as a fake Facebook server" in order to facilitate the infection of a target computer.  
In September, Zuckerberg criticized the administration's spying efforts during a discussion with The Atlantic's editor-in-chief James Bennet: "The response to the NSA [National Security Agency] issues that have blown up are a big deal for the global platform. Some of the government's statements have been profoundly unhelpful," he said, adding that the government's attempts to downplay the extent of the NSA's reach into American communications was particularly unhelpful for him: "'Oh, we only spy on non-Americans.' Gee, thanks! We're trying to provide an international service and not get crushed in those places either."