On the day after Martin Luther King, Jr., was assassinated in Memphis, the Associated Press' Louise Cook compiled reactions from a number of Americans: senators, labor leaders, Jackie Robinson — and a prominent leader in the Ku Klux Klan.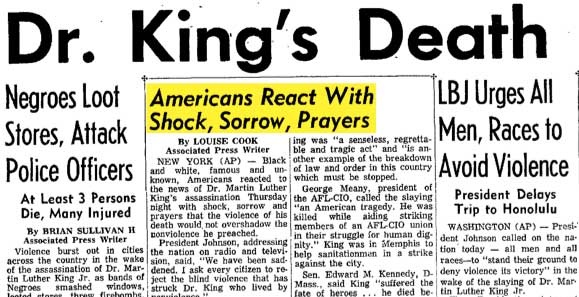 The story went out over the AP wire with the headline "Show, Sorrow, Prayers, Follow King's Assassination." The clip at right comes from the Ironwood, Michigan Daily Globe; you can read the full article online via Google News, which scanned the Sumter, South Carolina Daily Item. The paper's front page led with one of the two main second-day stories papers ran around the country: the small-scale violence that erupted in some places after word of King's death spread the previous evening. The other story was the search for King's killer.
The AP story began with the words of President Lyndon Johnson, who'd already announced that he wouldn't seek reelection that year. "We have been saddened. I ask every citizen to reject the blind violence that has struck Dr. King who lived by his nonviolence." Retired Brooklyn Dodgers star Jackie Robinson, the first black man to play professional baseball, had a different response: "Oh my God, I'm frightened."
Other responses: 
The Kingsport, Tennessee Times

"It's up to those of us who are here to carry out that dream."
- Sen. Robert Kennedy
"We can only grieve."
- Sen. Eugene McCarthy
"You feel like flying away from this damned cruel world."
- Joanna Ryan, a resident of Harlem
"What [Dr. King] stood for and was can never be killed with a bullet."
- Leontyne Price, a black opera singer
"This is America's answer to the peaceful, nonviolent way of obtaining rights in this country."
- Civil rights leader James Meredith
"There's going to be a lot of trouble at home."
- A soldier serving in Vietnam
America needs "a new spirit of reconciliation to redeem this terrible act."
- Richard Nixon
"We are going to have to fight."
- College student Betty Boston
But perhaps the most remarkable statement came from Calvin Craig, whose quote appeared at the end of Cook's article and which identifies him only as "grand dragon of the United Klans of America," an organization that is still in existence. Craig said of the assassination only this: it was "the worst thing that could have happened to the nation." 
To be fair, that's actually a fairly surprising response. One can assume that Craig's comments were less about his concern for the plight of the country's black population and more about Craig insincerely wringing his hands over the violence that followed. 
It's important to remember the moment in American history that the assassination represents. If a prominent African-American were murdered today, it's unlikely that overtly racist groups would be invited to offer an opinion, even with the press' reflex toward seeking commentary from both sides. But in 1968, Klan membership was still widespread in the South, a region shaking off explicitly racist legal structures.
This is what 1968 was like in the South: On the same day that the King assassination was announced, the Laurel, Mississippi Leader-Call ran another front-page story. Women, at long last, would be allowed to serve on juries.