What does it really mean now that the U.S. government has been shut down for the first time in seventeen years? This is the government shutdown: what's open, what's closed, and what the whole sad scene looks like from the front lines. The last time the government shut down for about three weeks from December 1995 to January 1996, we didn't have social media. You couldn't Instagram the National Zoo. But now everyone has a phone and they're sharing pictures showing the sad state the U.S. federal government is in right now. This is what it looks like the morning after the government shutdown.
They Locked Up Honest Abe
As you can see above, the Lincoln Memorial has been cut off from the general public and will remain that way for the foreseeable future. The National Mall will remain closed, too. Our heart goes out to those couples who had weddings booked for this month.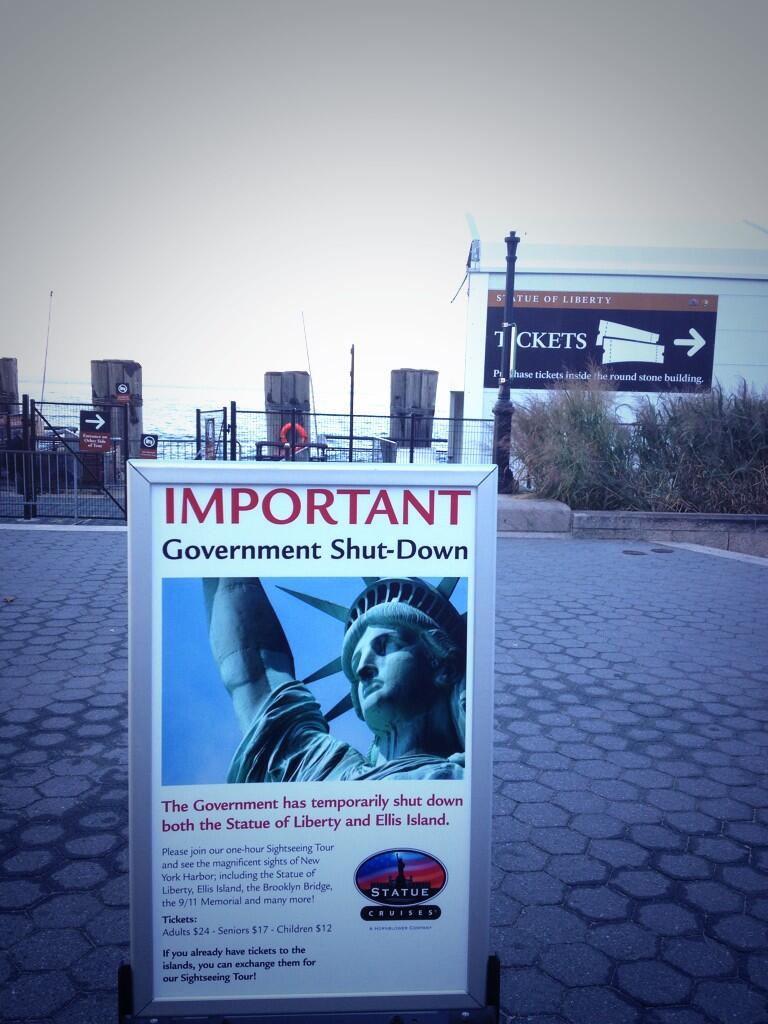 The Statue of Liberty? Surrounded by Red Tape
Hopefully you aren't a tourist in New York with plans to visit Lady Liberty. The monument is one of many tourist attractions with these depressing signs out front greeting soon-to-be-disappointed visitors. 
The Surprisingly Great General Services Administration Instagram Account Is Closed
Who knew the GSA had an interesting Insta account? About 200 people, apparently, and they're all disappointed this morning. The GSA won't be updating their feed — usually populated with pictures of art and architecture at federal government sites — until the government gets back to work. 
Censored: The National Gallery of Art
At the National Gallery of Art, an extension of the greater Smithsonian network of museums, these kids can't go to class because of the shutdown. 
They Shut Down the Entire Department of Agriculture Website
Wow. Entire @USDA 404 as sign of shutdown, via @hbottemiller pic.twitter.com/JsII3x0RbE

— Corby Kummer (@CKummer) October 1, 2013
Poor, poor farmers. Always getting the short end of the scythe. The shutdown will also have other unforeseen effects on the nation's agriculture industry: 
For instance, the U.S. Department of Agriculture informed Genex Cooperative Inc. on Monday afternoon that no international health certificates would be processed starting Tuesday.

The company collects semen from bulls and ships it overseas. Its business grinds to a halt without the certificates.

"We have a rancher in Argentina who is waiting for 5,000 doses. It's a very big deal for him," said James Chenevert, Genex Cooperative's manager in Baton Rouge and Fort Payne, Ala.
No Pandas for You: The National Zoo
At the @NationalZoo :( pic.twitter.com/ZoUqgmw4I6

— Amanda Terkel (@aterkel) October 1, 2013
This is what it looks like at the National Zoo gates this morning. We already knew the Panda Cam was shutting down, and by extension the rest of the zoo, too. Enough workers are kept around to care for the animals while the Zoo remains closed for the general public. 
No One's Going to the Smithsonian Museums Today
This is what your government looks like on shutdown via http://t.co/Zq4ObqvCoC pic.twitter.com/9iYvXsC5q9

— Jared Keller (@jaredbkeller) October 1, 2013
This security guard has to make sure the paintings don't go missing. That shouldn't be too hard. All the Smithsonian museums are closed, so he won't have any greasy fingered patrons to watch over. All he has to do is stay awake and make sure no burglars get in through the vents.
Yosemite and the National Parks
well played, http://t.co/CqlzHwlW5j — happy 123rd anniversary yosemite, have fun being closed: pic.twitter.com/iSFYchisON

— Arit John (@aritbenie) October 1, 2013
It's Yosemite National Park's 120th birthday today. How is the park celebrating? By being closed, that's how. At least Google loves Yosemite.
NASA's Social Media Accounts Go Dark Because No One Can Hear You From Space During a Shutdown
Mission Control is the only part of NASA that will stay open through the shutdown. According to NASA's official shutdown plan, 17,701 out of 18,250 total employees will be furloughed. Those numbers don't include private contractors working with the space agency. By extension, NASA's popular social media accounts all signed off Tuesday morning. Good luck out there, Voyager 2. We'll miss you, Curiosity. 
Don't Ask the CDC About Your Infection
Thankfully Obamacare's starting today because the CDC can't answer your questions. 
The U.S. Government Is Locked Out and the NHL Starts Tonight
There's a delicious irony in the NHL, locked out twice in the last ten years, starting its regular season on the same day the government shut down. The shutdown is so bad it's jeopardizing college football.
Rebellious Veterans Don't Care Your Some Stupid Shutdown
A group of veterans from Mississippi aren't letting this silly shutdown keep them out of the World War II memorial in Washington.