Al Feldstein, the leader and brains behind Mad magazine during its pop culture heyday, died on Tuesday at the age of 88. Though Mad peaked long ago, its impact on the comedians of the Boomer generation and beyond remains powerful.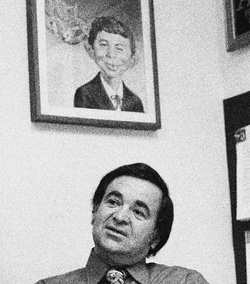 Feldstein was editor from 1956-85, during which time he moved Mad from an obscure comic book into a sarcastic, irreverent satire machine. Under Feldstein, the "usual gang of idiots" brought into the fold Mad staples like Alfred E. Neuman's gap-toothed grin, Spy v. Spy, Snappy Answers to Stupid Questions, and ... actual folds. They also produced an uncountable number of TV and movie parodies, and well as some legendary absurdities like the nonsensical sport known as "43-Man Squamish." 
"It's impossible to overstate his importance to Mad," current editor-in-chief John Ficarra said in a statement. "He took over Mad when it was transitioning from comic book to magazine and much of what the nation knows to be as Mad... The result of his work in Mad can be seen in a lot of comedy media today."
Indeed, though Mad has been pushed to the back-burner of today's comedy culture, the magazine's satire and wit played a major role in shaping today's most humorous minds. Below: some of the writers behind today's most popular TV shows, sarcastic news sites, share how they were inspired by Mad.
The Simpsons: "Basically everyone who was young between 1955 and 1975 read Mad, and that's where your sense of humor came from," The Simpsons producer Bill Oakley explained, according to the AP.
The Onion: "MAD magazine taught me that it was OK to make fun of everything," The Onion's founding editor Scott Dikkers said to The Pittsburgh Tribune.
The Colbert Report: "Long-time" fan Stephen Colbert "fondness" for the magazine pushed him to co-write the foreword to Totally Mad, the 2012 book looking back at the best of the magazine's 60 years. "No matter the level of sophistication you brought to Mad, there was always something dumb enough to keep your attention."
The Daily Show: "Mad could be seen as a transformative spiritual text," Eric Drysdale, a writer for The Daily Show and for The Colbert Report, co-wrote in that book's foreword.
Roger Ebert: "Mad's parodies made me aware of the machine inside the skin — of the way a movie might look original on the outside, while inside it was just recycling the same old dumb formulas. I did not read the magazine, I plundered it for clues to the universe," Ebert said, according to the AP.