The first woman to run The New York Times stepped down on Wednesday to the surprise of the Times newsroom and media power watchers alike.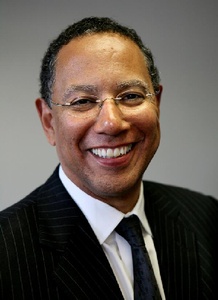 The Times announced Jill Abramson, 60, is out effective immediately as executive editor of The New York Times, to be replaced by managing editor Dean Baquet. Abramson was the first woman to edit the Grey Lady, and the paper's fledging diversity continues with Baquet's appointment — Baquet, 57, becomes the first African-American to edit the Times.
At first the reason for the switch was unclear. The Times' Ravi Somaiya reported the switch happened "unexpectedly." "The reasons for the switch were not immediately clear," Somaiya said, from within the kingdom's walls. The Times newsroom was just as shocked as the rest of us: 
Stunned newsroom. pic.twitter.com/dooXpAHJoR

— David Gelles (@dgelles) May 14, 2014
But publisher Arthur Sulzberger Jr. pointed to a greater conflict behind the scenes when announcing the news to Times staff members: 
The change was attributed, by Arthur Sulzberger Jr, to "an issue with management in the newsroom". No further details yet.

— Ravi Somaiya (@ravisomaiya) May 14, 2014
CNN's Brian Stelter had more scenes from Sulzberger's speech to the newsroom: 
Sulzberger: "I choose to appoint a new leader for our newsroom because I believe that new leadership will improve some aspects..." (1/2)

— Brian Stelter (@brianstelter) May 14, 2014
"...of the management of the newsroom." He won't elaborate further. "There is nothing more at issue here." (2/2)

— Brian Stelter (@brianstelter) May 14, 2014
It doesn't sound like Abramson is leaving of her own accord, after three years of dedicated service, through conflict and controversy from within and outside the paper. Baquet's ascension to the iron throne comes after he turned down an offer from Bloomberg News to oversee their coverage of Washington. But Baquet, who was also recently in charge of the search for a new New York Times Magazine editor, opted to instead stay within the Times castle.
And here's Dean Baquet in his first speech as the Times's new executive editor pic.twitter.com/YvRuzYVvKW

— Michael de la Merced (@m_delamerced) May 14, 2014
Here's the full press release sent out, via Capital New York's Joe Pompeo: 
The New York Times announced today that Dean Baquet has been named executive editor, effective immediately. Mr. Baquet, a Pulitzer Prize winning journalist who has been managing editor at The Times since September 2011, succeeds Jill Abramson.

In making the announcement, Arthur Sulzberger, Jr., the publisher of The New York Times and chairman of The New York Times Company, said, "There is no journalist in our newsroom or elsewhere better qualified to take on the responsibilities of executive editor at this time than Dean Baquet. He is an exceptional reporter and editor with impeccable news judgment who enjoys the confidence and support of his colleagues around the world and across the organization."

Mr. Baquet said, "It is an honor to be asked to lead the only newsroom in the country that is actually better than it was a generation ago, one that approaches the world with wonder and ambition every day. The talented journalists of The New York Times make it the greatest news operation in history and I look forward to working with them to deliver the world's most engaging and enterprising journalism."

Mr. Sulzberger continued, "Jill Abramson has my sincere thanks for not just preserving and extending the excellence of our news report during her time as executive editor, but also for inspiring her colleagues to adjust their approach to how we deliver the news. Her leadership helped further The Times down the path to our digital future, particularly with her embrace and oversight of new platforms and products like The Upshot, NYT Now and NYT5."

Ms. Abramson said, "I've loved my run at The Times. I got to work with the best journalists in the world doing so much stand-up journalism. Holding powerful institutions accountable is the mission of The Times and the hallmark of my time as executive editor, whether stories about China, government secrecy, or powerful figures and corporations."

Ms. Abramson continued, "We successfully blazed trails on the digital frontier and we have come so far in inventing new forms of story-telling. Our masthead became half female for the first time and so many great women hold important newsroom positions. Dean has been my partner in all this and he will be a great executive editor. I thank Arthur, who has been a steadfast protector of our journalism, for the chance to serve."

Mr. Sulzberger added, "Our business continues its digital transformation and in our newsroom, we are moving fast to a digital first reality. With Jill, Dean was closely involved in the work of our newsroom innovation team over the past six months, which helped to outline how we can best organize to extend our tradition of innovation and excellence into the future. I'm very pleased that he will now lead that work as executive editor."