Devastating isn't the word to describe the World Cup game last night that England spectacularly lost to Uruguay, destroying their chances of escaping the group stage of the tournament. As ever, the British papers have distilled a nation's grief into barbed, and occasionally punny, front pages, with the added bonus of several photos showing Wayne Rooney's son crying.
As David Sims so eloquently put it in his ode to the crushing disappointment that all England fans should be used to by now, "They've done it before, they'll do it again." England have now officially been knocked out of the 2014 Cup after Italy failed to complete even one step of the dizzying mathematical calculation that would have let England stay in the tournament. It should have gone like this: Italy beats Costa Rica. Italy beats Uruguay. England beats Costa Rica by a large, to-be-determined number of goals. Easy, right? Apparently not. The Italians botched the very first part this afternoon, and Costa Rica is on to the next round. 
And for the deeper pain, there is always Twitter. 
Suarez is an exceptional football player and.... an extraordinary dick head. http://t.co/BLOlKSYJv6

— Tom Rogan (@TomRtweets) June 20, 2014
Just like the tweet above from British journalist Tom Rogan, most of the vitriol was aimed directly at Luis Suárez, the Uruguayan striker who scored both of his team's goals yesterday — and plays professionally in England — despite being confined to a wheelchair by an injury just a month before.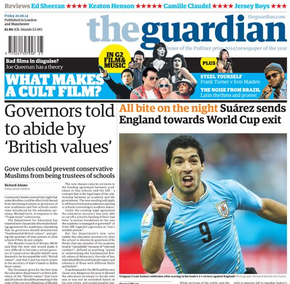 The Guardian goes with a Suarez teeth pun — "All bite on the night" — a nod to the Brits' fascination with the contents of his Uruguayan mouth, and the incident during which he bit Chelsea defender Branislav Ivanovic on the arm. (Not the first time he's put his teeth on someone during a game, by the way.)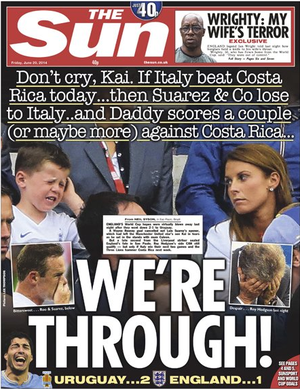 Some of The Wire's American staff were baffled by the fact that a national newspaper would have a cover like The Sun's Friday edition, which featured Wayne Rooney's distraught son, Kai, bawling after the match. (Rooney scored England's only goal that game.) Meanwhile, a delighted Suárez, his face contorted in glee, peeks out of the corner. Evil.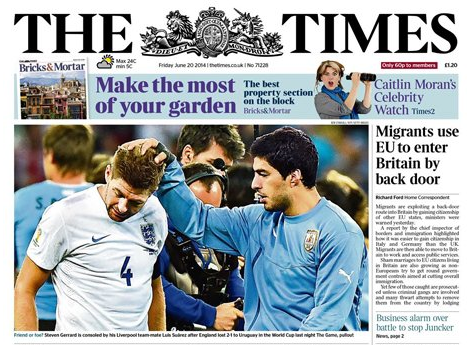 The Times of London shows a particularly condescending shot of Suárez ruffling the hair of his Liverpool teammate Steven Gerrard as if to say, "Better luck next time, son."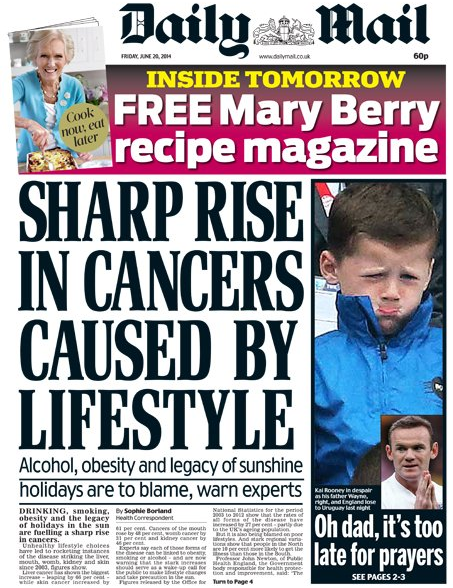 The Daily Mail also went with a picture of teeny Rooney, Wayne's sad little son. The ears are identical, and the disappointment is clear on the faces of father and son. 
And then there's The Daily Star, which appears to be the only major newspaper that opted for the obvious inclusion of Brazil's Cristo Redentor statue to watch over England's miracle that never was. The cover image of England fans in disbelief perfectly sums up the feeling of watching them lose yet again. When will we ever learn?