The Malaysian government has started a probe into the poor initial reaction by civil and military authorities after first realizing that the missing Malaysia Airlines Flight 370 no longer appeared on radar screens, according to an exclusive report by Reuters. The Reuters report also offers new insight into what happened on the day MH370 disappeared. 
According to Reuters's Siva Govindasamy and Niluksi Koswanage, unnamed officials shared information that was not previously revealed. For instance, they said that military officials were tracking MH370's route in real time: 
"When we were alerted [that the turn had gone off course] we got our boys to check the military radar. We noticed that there was an unmarked plane flying back but (we) could not confirm (its identity)," said the senior military source. "Based on the information we had from ATC (Air Traffic Control) and DCA (Department of Civil Aviation), we did not send up any jets because it was possibly mechanical problems and the plane might have been going back to Penang."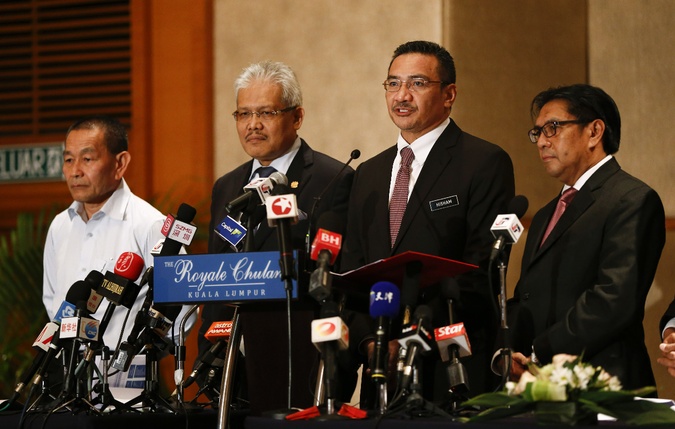 The decision not to scramble planes to MH370 could have cost investigators valuable time. Military jets could have spotted and tracked the plane, and prevented authorities from wrongly focusing their search on the South China Sea, as they did for an entire week. That search was also fueled by the worryingly slow communication between civil aviation authorities and the military, said one senior civilian source: "The armed forces knew much earlier that the aircraft could have turned back. That is why the search was expanded to include the Strait of Malacca within a day or two. But the military did not confirm this until much later due to resistance from senior officers, and the government needed to step in. We wasted our time in the South China Sea."
Sources also told Reuters that those tracking the radar assumed that the plane had turned around due to mechanical problems, and did not immediately suspect foul play: 
Air traffic controllers and military officials assumed the plane had turned back to an airport in Malaysia because of mechanical trouble when it disappeared off civilian radar screens at 1:21 a.m. local time. That assumption took hold despite no distress call or other communication coming from the cockpit, which could have been a clue that the plane had been hijacked or deliberately diverted.
The Malaysian government was not forthcoming with comments on the revelations.
Meanwhile, some confusion appears to have arisen over how confident officials are that a fifth signal, picked up yesterday by a search aircraft, is coming from MH370's black box. According to the New York Times, Angus Houston, who is coordinating the search, wrote in an email that "an initial assessment of the possible signal detected by a R.A.A.F. AP-3C Orion aircraft yesterday afternoon has been determined as not related to an aircraft underwater locator beacon."  Houston added, "on the information I have available to me, there has been no major breakthrough in the search." 
The comments are directly opposed to those spoken by Australian Prime Minister Tony Abbott on Friday, who said in a press conference that "we are very confident that the signals that we are detecting are from the black box on MH370." Abbott suggested that searchers had pinpointed the location of the equipment to within a few kilometers, but still not enough to make a precise target.
The latest confusion doesn't inspire much more confidence in the search effort, or the way that information has been presented to the public since the plane first went missing.