Three bombs exploded near Cairo University early this morning, killing at least one person and up to two others, so far, as well as injuring at least five. According to the Interior Ministry, the sole victim was  Brig. Gen. Tariq al-Mirgawi, police chief of the criminal unit in West Giza. The Associated Press and New York Times report that two others dead from the blast, one of them a civilian, and that seven others have been injured. The Times of Israel writes that three have been killed. 
In a statement, the ministry said "experts determined that the two explosive devices were planted in one of the trees in the area." The BBC reports that the two bombs were placed near a police post, and that a third bomb may have gone off, as well.
RT has posted a video reportedly showing the moment of the second blast:
And Egyptian breaking news channel CBCExtra appears to have captured footage of the third blast: 
At 0:29, moment of third blast outside Cairo University today (via @bgittleson) #Egypt https://t.co/AG3oh3jHmj

— Alexander Marquardt (@MarquardtA) April 2, 2014
It's possible that a fourth device was found: 
Breaking : A forth explosive device, found in front of #Cairo Uni's Engineering school , is now being deactivated - cbc extra #Egypt

— طلعت (@Ahmadtal3t) April 2, 2014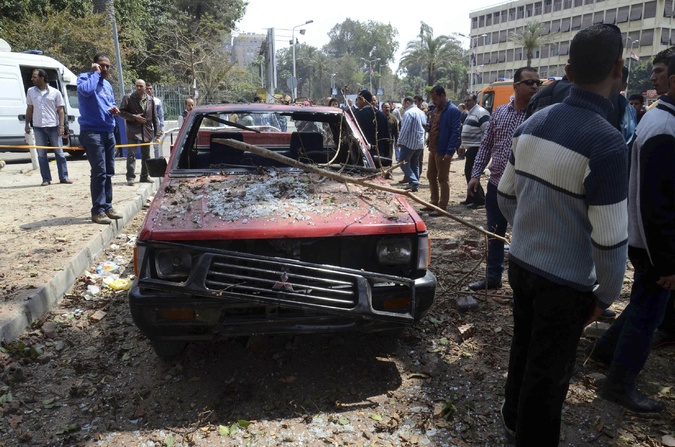 Agence France-Presse reports that the bombs were rudimentary and adds that an assistant interior ministry was also injured, in addition to five police officers. AFP describes the scene: 
"I was waiting for the bus when I heard two explosions. There was dust in the air and policemen were screaming," said a witness, Sakta Mostafa. A student in Cairo University said he ran out of the campus after hearing the explosions. "I found a lifeless man in plain clothes and a policeman bleeding from his leg," said the student, Amr Adel. Mergawi was a chief detective who would have been dressed in civilian clothes.
According to the New York Times, the attacks were planned to coincide with a pro-Muslim Brotherhood student protest. Such protests occur nearly every day by the university campus. The Times adds that these bombings are somewhat unusual: 
The staggered nature of the blasts in a relatively close area introduced a new tactic. The first two bombs, which security officials said were hidden at the foot of a tree, went off less than a minute apart. The third, concealed up another tree at a different location outside the campus, exploded nearly two hours later.
Attacks targeting police have not been unusual since the July ouster of former president Mohammed Morsi, leader of the Muslim Brotherhood. On Friday, three people, including one journalist, were killed in clashes between Muslim Brotherhood supporters and law enforcement in Cairo. According to the Egyptian government, 500 people, most of them soldiers or police officers, have been killed by militants in the aftermath of the overthrow, thought that number doesn't include demonstrators who have become victims of the new military-led government crackdown on Brotherhood supporters. Last week, more than 500 supporters of the group were given death sentences for a clash that left one policeman dead.