Both China and Australia have spotted objects floating in the Indian Ocean that could possibly be debris from missing Malaysia Airlines Flight 370. 
The unidentified objects were found after the two countries, among others, sent out ships and aircraft to investigate satellite images revealing potential leads in the so-far fruitless search MH370. Now, the investigative teams are scrambling to locate and identify the objects.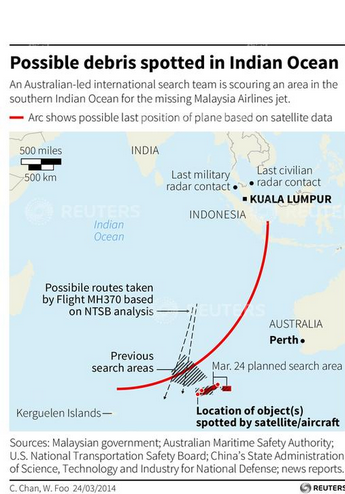 According to China's Xinhua news agency, the crew aboard a Chinese plane flying over the area saw two large objects and several smaller ones scattered across an area of several square miles. "When two of our IL-76 planes were searching the relevant suspected sea area, one of the planes photographed white, square floating objects," Chinese Foreign Ministry spokesman Hong Lei said. As has become customary on this search, the information is inconclusive. "At present, we cannot yet confirm that the floating objects are connected with the missing plane" the spokesman continued, adding. "We are still racing against time." And, at least for now, it appears the "suspicious" objects haven't been picked up:
US Navy P8 Poseidon tasked to investigate reported object sightings by Chinese aircraft at 33,000ft. 1/2

— AMSA News (@AMSA_News) March 24, 2014
Objects spotted by Chinese aircraft as heading back to Perth. Drift modelling undertaken on sighting. P8 unable to relocate objects. 2/2

— AMSA News (@AMSA_News) March 24, 2014
Hours after China announced the find, Australia also reported seeing a number of items that could be related to the plane. The two objects found by Australian aircraft were described by Prime Minister Tony Abbott as a "grey or green circular object," and an "orange rectangular object." Hopefully, authorities will be able to offer more technical descriptions when (and if) the articles are retrieved by a nearby Australian ship. This could be within the next few hours. In a statement, the Australian Maritime Safety Authority offered: 
Objects have been located by a Royal Australian Air 
Force P3 Orion. HMAS Success is on scene and is attempting to locate the objects in the search for missing Malaysia Aircraft flight MH370. The objects were spotted in the search area about 2500 kilometres south-west of Perth by the RAAF Orion about 2.45pm (AEDT). The crew on board the Orion reported seeing two objects – the first a grey or green circular object and the second an orange rectangular object. The objects identified by the RAAF Orion are separate to the objects reported by the Chinese Ilyushin IL-76 to AMSA earlier today. 
Malaysia's Acting Transportation Minister Hishammuddin Hussein has maintained a cautious tone in discussing the news, saying only that "At the moment, there are new leads but nothing conclusive."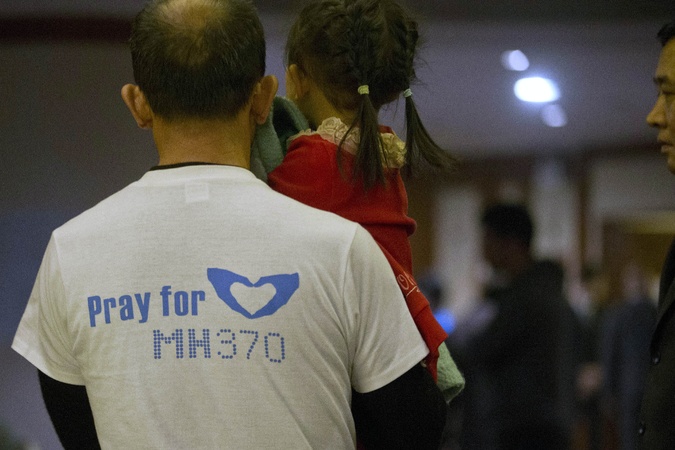 On Saturday, an Australian plane spotted what looked like a wooden pallet that may have come from the flight, but by Sunday traces of the pallet were gone. As the search for the plane enters its third week and evidence remains faulty -- and the weather poor -- morale is running low. A timeline of the search reveals just how many false starts have frustrated those searching and awaiting news. Most recently, Australian Transport Minister Warren Truss called Sunday a "fruitless day," adding that "nothing of note" was found. And officials are increasingly desperate to find the plane's black box, which could offer insight into what happened on board Flight 370, but which is expected to stop sending out signals 30 days from takeoff.