There were hopeful signs on Friday that the Ukrainian government has come to a truce with demonstrators in Kiev, but it's not known if the deal in the works will actually bring an end to the violence. 
The Latest: 
Opposition leaders and President Yanukovych have signed an agreement to settle the conflict. An English translation of the site details the terms, which include (as predicted) a return to the 2004 constitution within 48 hours, full constitutional reform in September 2014, no declaration of a state of emergency, investigations into the casualties and, of course, a cessation of violence. The leaders agreed to hold the early elections in December of this year, a point of contention that threatened to derail negotiations. You can see the full English text of the agreement here. 
The White House press secretary has issued a statement on the agreement, saying "the United States welcomes the agreement signed today between Ukrainian President Yanukovych and Opposition leaders... Now, the focus must be on concrete action to implement this agreement, which we will be monitoring closely." The statement continued to call for "immediate implementation of initial steps -- an end to the violence, amnesty, and security normalization, and passage of the constitutional package in the Rada -- to provide space for the negotiations to begin on formation of a technocratic coalition government." 
Statement from the White House Press Secretary, on #Ukraine: pic.twitter.com/fglCfUmL1K

— David Gura (@davidgura) February 21, 2014
Reuters journalist Luke Baker points out that Russia does not appear to have signed the agreement. 
#Russia apparently didn't sign #Ukraine agreement RT @sanwaldinjo: via @mefimus pic.twitter.com/yOr6LnS7Fn

— Luke Baker (@LukeReuters) February 21, 2014
 Opposition leader and former Prime Minister Yulia Tymoshenko could be freed from prison. 
Original Post:
Embattled Ukrainian President Viktor Yanukovych said today that his cabinet has reached an agreement with opposition leaders that should put an end to days of violence and months of unrest in the country. Germany's foreign ministry announced that the opposition had accepted the deal, though no formal announcements had been made.
The details are set to be revealed at noon, but European Union leaders present at the talks warned that nothing has been finalized, and one opposition leader said that concessions on his side would have to be approved by protesters on the street. and despite their unified actions during the battles in the street, they are not all united in their demands.
The tentative deal comes after the bloodiest day of clashes since the protests began, which left hundreds injured and raised the death toll this week to 77, according to the Ukrainian health ministry. Activists say the count is likely higher, as there are thousands of wounded and many activists who are simply missing.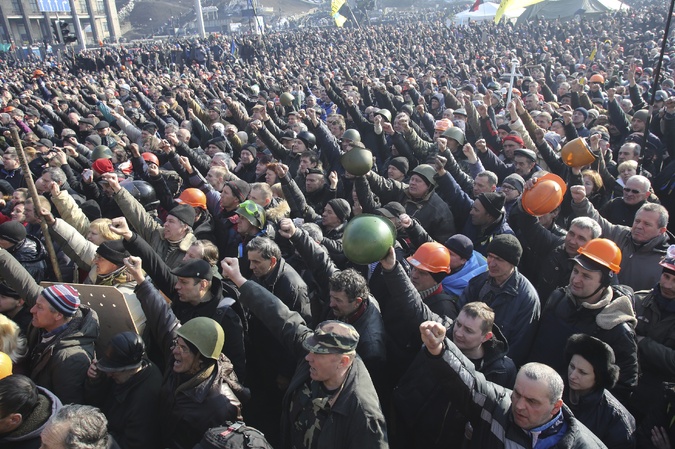 Early reports note that the draft agreement proposes a return to Ukraine's 2004 constitution, the one adopted after the Orange Revolution that ended Yanukovych's first reign as Prime Minister. (The current version was later rewritten by Yanukovych and extends his presidential powers.) The president has reportedly agreed to put together a coalition government within 10 days, while also calling for a referendum on a new constitution in the fall, and early presidential elections in December. According to the Washington Post, opposition groups UDAR, Fatherland and Svoboda, agreed to the terms, but aren't happy with the election timeline. Fatherland Party leader Arseniy Yatsenyuk said, "we must now take power. I do not know how much we can take, but we must do it." 
Protesters have been demanding Yanukovych's immediate removal, and it days of heavy violence have only strengthened their resolve, per online reports: 
Maidan demand #Yanukovych to resign now - #Euromaidan stage |PR News #Ukraine #Kyiv

— Euromaidan PR (@EuromaidanPR) February 21, 2014
chorus voices in #Kyiv shows little support deal announced by #Yanukovych, wide calls by #Ukraine opposition for his immediate resignation

— David M. Herszenhorn (@herszenhorn) February 21, 2014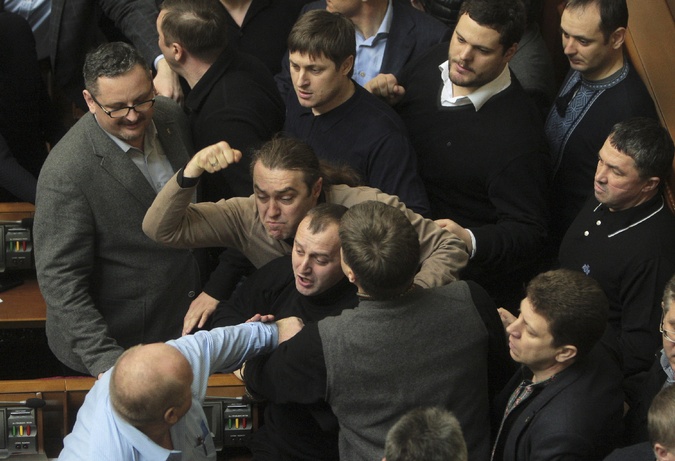 Members of Parliament spent hours negotiating the plan overnight, in a meeting that turned to blows when speaker Volodymyr Rybak attempted to pause the proceedings, angering leaders anxious to settle the matter. The draft was reached with the help of international mediators, including German, Polish and French representatives. 
Meanwhile, the situation in Kiev's Independence Square remains volatile. CNN reports: 
As security forces were moving away from the area after the latest truce, a group of protesters pursued them throwing rocks and Molotov cocktails. Demonstrators did this all under a sky blackened by smoke from their burning barricades, with at least one of them firing toward police lines with a shotgun. Security forces appeared to fight back with automatic weapons and at least one sniper rifle. In video shot by Radio Free Europe, men wearing what appear to be government uniforms fired at unseen targets with automatic rifles and a sniper rifle with a telescopic sight. 
Late Thursday night, the government passed a resolution intended to keep law enforcement from reacting so violently to the protesters, an order that would be taken more seriously if a Wednesday-night truce wasn't so quickly broken. 
Still, the New York Times reports one cautiously positive development from last night's talks. Apparently, members of Parliament have been backing off accepting Russia's $15 million bailout offer — a deal which disrupted a plan for an EU trade agreement and set off the protests in the first place. Per the Times:
In one indication of a possible window for negotiations, the Ukrainian Finance Ministry formally canceled plans to issue the latest tranche of below-market-rate Eurobonds to the Russian government, the form of financial aid that the Kremlin had been providing.
Now the world waits to see how the protesters in the street react to this latest news. If this live stream of Independence Square is any indication, things are calm at the moment, but the situation remains very much in flux.