Anti-government protests are gaining strength in Ukraine — intensifying in the capital city of Kiev, while also spreading into regions traditionally in favor of President Viktor Yanukovych — after several days of negotiations with the oppositions failed to yield any results. 
The government last week attempted to ameliorate the public's anger by offering opposition leaders Arseniy Yatsenyuk and former boxer Vitali Klitschko positions as prime minister and deputy prime minister, respectively.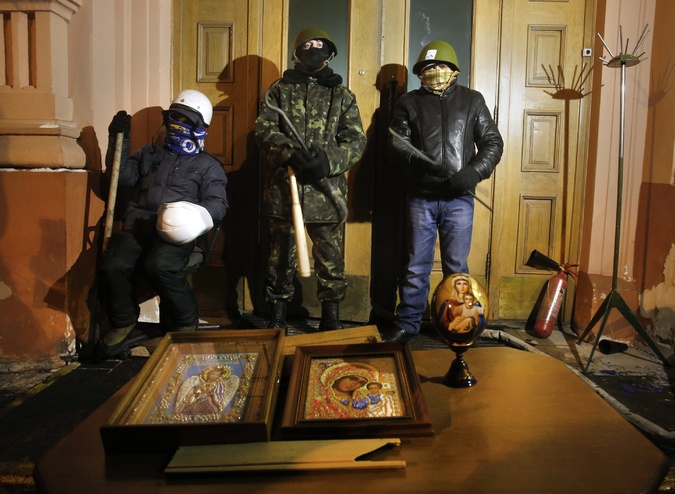 The leaders — who share little in common aside from wanting to see the current government removed — did not accept the offer. The protesters have called for snap elections, and it increasingly looks like they will settle for nothing less than Yanukovych's complete ouster.
Now, the demonstrations appear to be snowballing. Al Jazeera reports that the protesters have tried to block 14 out of 25 regional administrations. Negotiation attempts are waning as demonstrators continue to occupy buildings all over the nation, according to the BBC: 
Protesters seized the building in Kiev late on Sunday and set up barricades outside with bags of snow. Unrest is spreading across Ukraine, with activists taking over municipal buildings in up to 10 cities. Buildings have come under attack even in eastern areas which have traditionally had closer ties with Russia and where President Viktor Yanukovych has enjoyed strong support. Correspondents say protesters entered the justice ministry building in the capital without resistance. "The seizure of the Ministry of Justice is a symbolic act of the people of the uprising. Now, these authorities are stripped of justice," one protester told reporters.
Ukrainian Justice Minister Olena Lukash said that protesters sprayed water into the building, creating a "veritable ice rink" as it froze. She has threatened to call for a state of emergency if demonstrators continue to occupy her ministry. 
Last week, Ukrainian police killed at least four activists, drawing international criticism of the government and leading the World Economic Forum to retract an invitation to the country's prime minister to speak at Davos. Footage showed Ukrainian riot police forcing a naked protester to pose for photos in the freezing weather (the officer who leaked the video to the public has reportedly fled the country, afraid for his safety) and two Polish journalists reported being beaten for trying to cover the protests.'
The protests started in November after Yanokovych rejected an EU trade deal at the eleventh hour, instead selling $15 billion worth of government bonds to Russia and accepting lower gas price from the country in a show of loyalty to its former Soviet ruler. The decision prompted outrage by Ukrainian citizens in favor of the landmark EU agreement, which would boost the Ukrainian economy by loosening trade restrictions between Ukraine and the European nations. Though the protests died down in December, a recent move by the government to essentially criminalize protests re-triggered citizen ire.
The parliament is set to meet on Tuesday in an extraordinary session, where hopefully negotiations will continue — and be more fruitful than they have so far.