Want a good sense of how obsessive HBO's True Detective fans are getting in order to figure out the identity of the "Yellow King"? The 1895 book The King in Yellow is now an Amazon bestseller.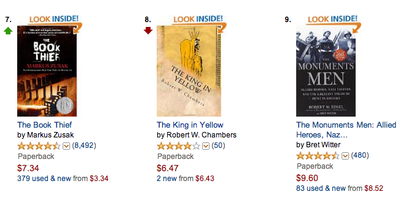 Sales of the collection of "weird fiction" short stories by Robert Chambers rose 71% over a 24-hour period on Wednesday, the Wall Street Journal reports, on the back of a monstrously important fifth episode of the HBO show. "We've seen the most significant spike in sales after this last episode, episode five, aired," a books editor at Amazon told WSJ. Previously, the show had made oblique references to a "Yellow King" and a place called "Carcosa." Those references took center stage in the most recent episode, which buoyed the book toward the top of Amazon's charts.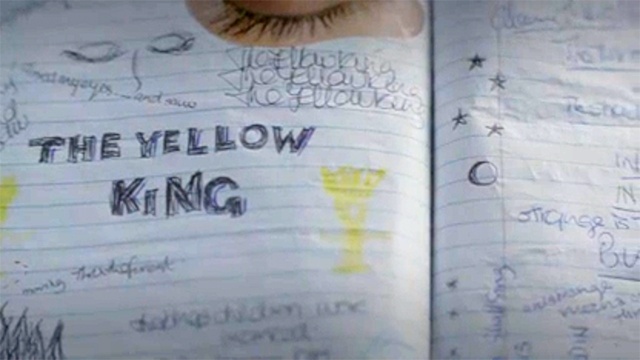 Those sales were egged on by close show-watchers, too. "Knowing this book is key to understanding the dark mystery at the heart of this series," i09 wrote last week with screenshots of the references. "Read 'The King in Yellow,' the 'True Detective' Reference That's the Key to the Show," a headline in The Daily Beast blared.
The references aren't a coincidence; True Detective show-runner Nic Pizzolatto is a fan of the original book and its meta references to the essence of what a story is. In Chambers' writing, The King in Yellow is a play within his world of short stories that causes any of its readers to go insane. Those works had a major influence on H.P. Lovecraft and his Cthulhu Mythos stories, and have had lasting influence on horror writing.
Though True Detective is nominally a whodunnit cop show about Satanic serial killers, Pizzolatto fashions it as a story about story-telling, he explained to The Daily Beast's Andrew Romano. "In other words," Romano writes, "the important thing about the Yellow King and Carcosa isn't what they signify to Reggie Ledoux. It's what they signify to us. They call attention to the story-ness of the story we're watching." Just like the despair-causing play of The King in Yellow, True Detective works like meta-fiction, as the show revolves around the stories that Matthew McConaughey and Woody Harrelson spout.
The book is in the public domain and Amazon's Kindle version is free, so it's not as if people are throwing their hard-earned cash at the book. There are even competing versions from different publishers, leading to some potential artistic copyright disputes. But still, rising into the Top 10 most sold books is a tribute to the Game of Thrones-like fandom the show has engendered in rapid time.