Which sports city is the saddest sports city of all? You're expecting us to say Cleveland. But it is not Cleveland. As it turns out, several Wire staffers come from very sad cities to be a sports fan; cities with the sort of sadness that makes one scoff at the fact that at least Cleveland got its precious (and still terrible) Browns to come back to them. So below, we present to you the best cases for why our hometowns are where sports franchise miracles go to die. And also, David Sims wanted to write about New York City. 
New York City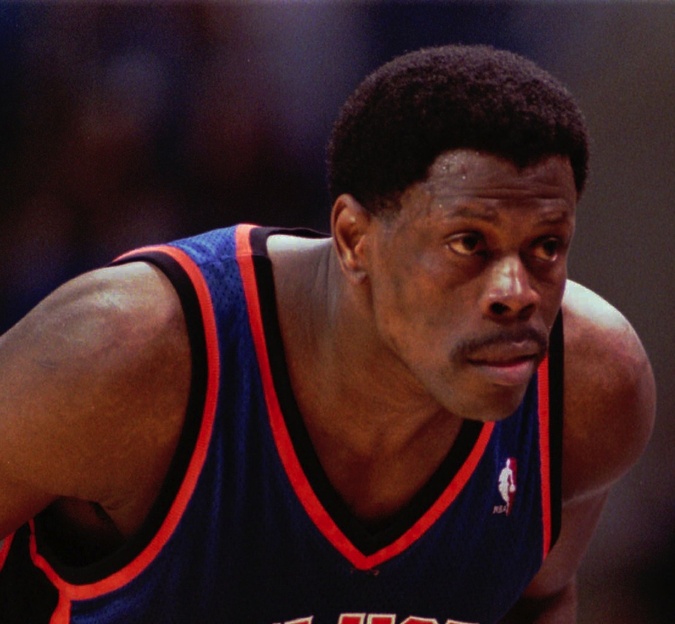 Yeah, I hear you yelling from over here. The Yankees have a gazillion trophies and every time they throw money at stars and it doesn't pay off, the rest of the world celebrates! And the Giants have pulled off two improbable Super Bowl runs in the last seven years. FINE. But I don't care about teams in New Jersey (bye, NFL) and I hate the Yankees. The last time my Mets won the World Series (1986) was the year I was born, and now I root for a team that was bankrupted by Bernie Madoff and doesn't even have fan support from people who live next to its STADIUM. 
My truest love is the Knicks, who have won two titles in their history, the last in 1973, and are universally regarded as having the worst owner in the league. [Ed. note: Well, now anyway.] The Knicks are the team that forged me in sports fan misery with their '94 Finals loss to the Rockets and '95 playoffs knockout by the Pacers. Yes, both the Mets and the Knicks have had their chances and blown ridiculous contract after ridiculous contract on over-the-hill superstars. But isn't it worse to have all the potential and money that comes with being a New York team and fail again and again? What's that? You want me to shut up? Oh, okay.  - David Sims
Houston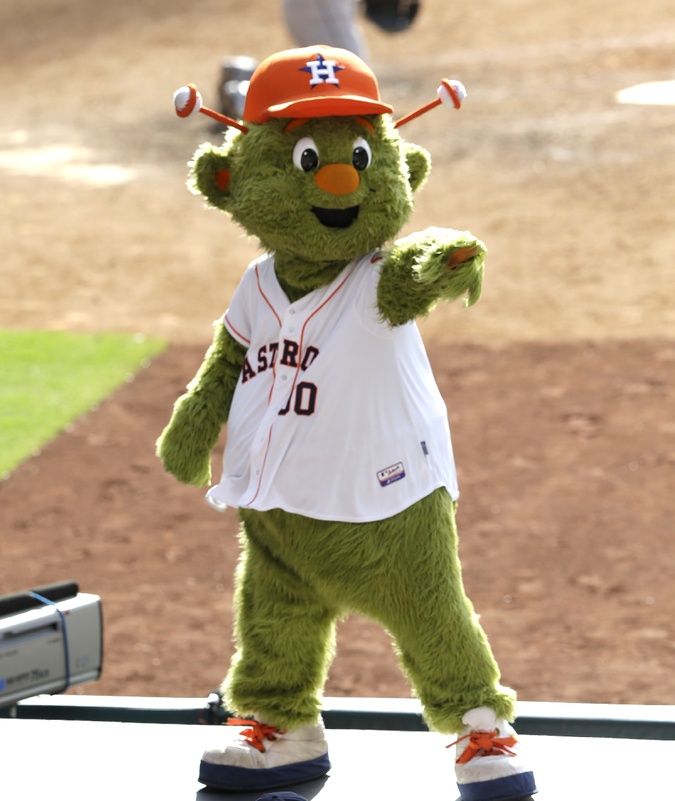 What's the fourth-biggest city in the country? Phoenix? Philadelphia? After the Big Three, it gets a little muddled. Enter the self-esteem crisis that is Houston, Texas, a city with no universally recognized skyline, buildings, or attributes. Austin has its music, Dallas has its Cowboys, San Antonio has its Alamo, and Houston has no zoning. 
This dearth of regard carries over most forcefully into sports, where Houston is, historically, the saddest of the sad. A football town in a football state, the Houston Oilers never once made the Super Bowl, blew the 
largest lead ever
 (in a playoff game no less), and fled town for Tennessee. Their replacements, the Houston Texans, lost 14 straight games last year. Their baseball team, the Astros (or Lastros or Disastros) made the World Series one time in 
five decades
 and were swept. In the last three seasons, the Astros became the only team in baseball's modern era to lose 100 games or more in the three consecutive years.
Houston's only championships are known best by their asterisk. Even the greatest glories that the Houston Rockets attained—Olajuwon over Ewing in 1994, Olajuwon over David Robinson on his way to besting Shaq in 1995—are obscured by one simple historical fact: Michael Jordan was off batting .202 in Birmingham when the Clutch City 
captured
 its two rings. That was 20 years ago. Meanwhile, Houston itself remains sad and unrecognizable.
— Adam Chandler
The entire country of Canada
OK, let's get this out of the way quickly: Canada is not a city. It is, perhaps unbelievably, a rather large country. It does not have enough sports teams across the Big Four leagues to count in this discussion, though, so we consider Canada one solid, sad whole. A solid, sad whole that has not seen a Big Four title since 1993, when the Blue Jays won the World Series and the Montreal Canadiens became the last Canadian team to hoist the country's holy grail, the Stanley Cup. It has been nothing but gut punch after gut punch for the last 21 years. Grantland examined the most heartbreaking times Canada came to ending the 
Stanley Cup drought
, and there are plenty. Read that if you need some schadenfreude to fill your afternoon, and then send it to your favorite Canadian friend and watch his or her face turn bright purple. (Most of my friends will read that and cry like babies. Me? I'm a Rangers fan — I've been public enemy #1 for the last two weeks and it felt 
great.)
But the heartbreak doesn't stop off the ice. Canada has other major sports teams, too. Or should I say "had"? Vancouver had a basketball team, the Grizzlies, who moved to Memphis in 2001 after seven short years of futility. The Montreal Expos would have been the favorites to win the 1994 World Series, with a roster of names who went on to Hall-of-Fame careers playing for other teams, if a work stoppage didn't cut the season short with the 'Spos in first place. Ten years later, the team moved to Washington, D.C. without ever winning a pennant. The two surviving non-hockey teams, the Toronto Raptors and Blue Jays, haven't fared much better. 
The Raptors had a hero
 — and then they ran him out of town, and this year they got punked by Brooklyn in the playoffs. The Blue Jays haven't seen the post season since winning it all in 1993. 
Some people want to move an NFL team to Toronto, which seems like a great idea on the surface. Toronto could support an NFL team, probably. The city is full of bandwagon fans anyway. But if it means more pain for my dear friend Joe and the city of Buffalo [see below], forget it. They've suffered enough. - 
Connor Simpson
Jacksonville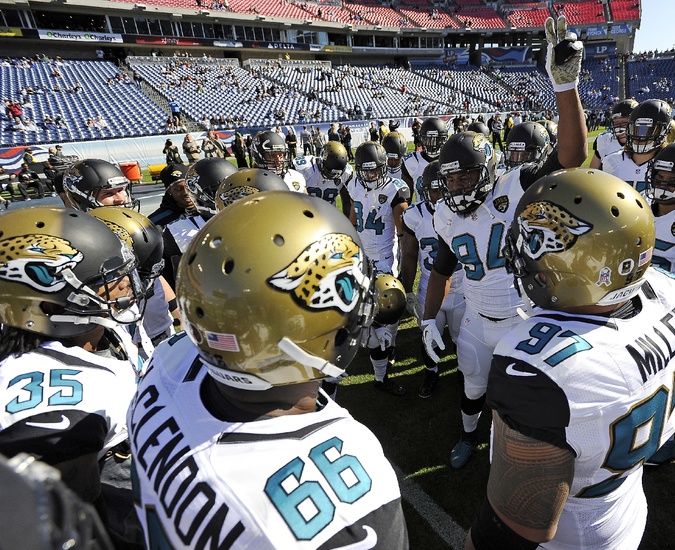 In most ways, Jacksonville is more of an incredibly lucky place than a sad one. The city, just on that precipice of becoming a Major American Metropolis, has its own NFL team. That's really exciting! But instead of being allowed to enjoy that peacefully, Jacksonville has become a target of mockery across the country for its struggles with attendance and filling out its stadium. The Jaguars had awful attendance problems in 2009, when 
seven of eight home games
 were blacked out. Yikes. That essentially made Jacksonville synonymous with blackouts and attendance issues. "Oh hey, look it's the Jaguars' only fan!" is a common lame comeback from trash-talking fans of other teams.
In the proceeding years, though, it's become clear that this was not a problem specific to Jacksonville. Teams across the country — 
Tampa Bay
, 
Miami
, 
San Diego
, 
Oakland
 — have had trouble selling out their stadiums, particularly in warm places where the majority of people grew up elsewhere rooting for another team. It's fairly obvious why: going to games sucks. Watching at home is free. There is better internet to check your fantasy teams. Beers don't cost $9. 
The Jaguars haven't had 
any blackouts since
 2009, a string of four consecutive years. Still, despite the fact that ticket problems are in every city, the Jaguars remain the butt of every attendance joke. It's unfair and rude, but it still is frustrating when 
another
 idiot ESPN talking head says to sign Tebow because he'll put fans in the seats, and Jacksonville really needs that! No. Jacksonville does not need that. Not anymore than a number of other cities and teams. And that makes me sad when people diss Jacksonville for dumb, ignorant reasons. —
Eric Levenson 
Hartford, Connecticut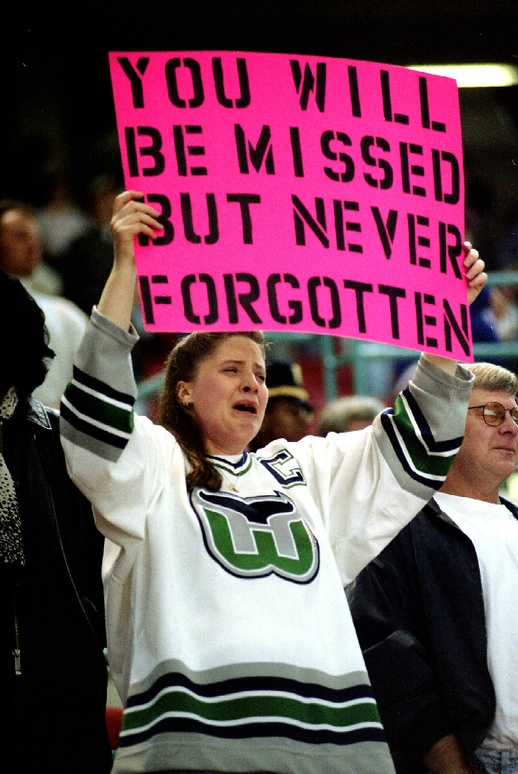 Let me set the scene: It's 1997, and the new owner of Connecticut's single major league team, the NHL's Hartford Whalers, is moving the hockey team to the Carolinas (where of course there's a HUGE hockey fan base, ha ha). Kevin Dineen scores the team's final goal, the Whalers become the Carolina Hurricanes, and Hartford suffers its biggest heartbreak since the team traded Ron Francis. Sad story (see: image at right), especially for a kid who grew up going to Whalers games, right? It gets worse.  
Fast forward to one year later. New England Patriots owner Robert Kraft has agreed to move the Patriots to Hartford from the team's aging Foxboro Stadium in Massachusetts. Although I'm a hockey and not a football fan, this is still pretty cool: unlike the Whalers, the Patriots actually have a chance of doing well (or even getting to the playoffs). The state's governor — whom many suspected always wanted to woo the Patriots, instead of keeping the Whalers — announced the deal in a joint press conference with Kraft. But two days before Kraft's deadline to pull out of the signed deal without penalty, 
the team announces that just kidding, they'll stay in Massachusetts after al
l, thanks to a pretty sweet counter offer worked up by the state once the fire was under their feet. What's it like to root for a team that may have used your city as a stepping stone to the deal they always wanted? Hartford knows. 
There's a Guy Maddin film called
 My Winnipeg
 that is in no small part about the narrator's (and the city's) anguish after the loss of their beloved Jets. I saw it once, in an audience full of Hartford residents, and you could taste the sad empathy in the room. Except Winnipeg eventually got its Jets back. Hartford, on the other hand, is facing the possibility of 
even losing its minor league hockey team
 in the near future. But still, fitting with the heartbreaking OFFICIAL MOTTO OF THE CITY OF HARTFORD, "p
ost nubila Phoebus" (after the clouds, the sun), fans still keep watch, hoping that maybe, just maybe, this is the season that an NHL hockey franchise will be lured back home. 
-
Abby Ohlheiser 
Buffalo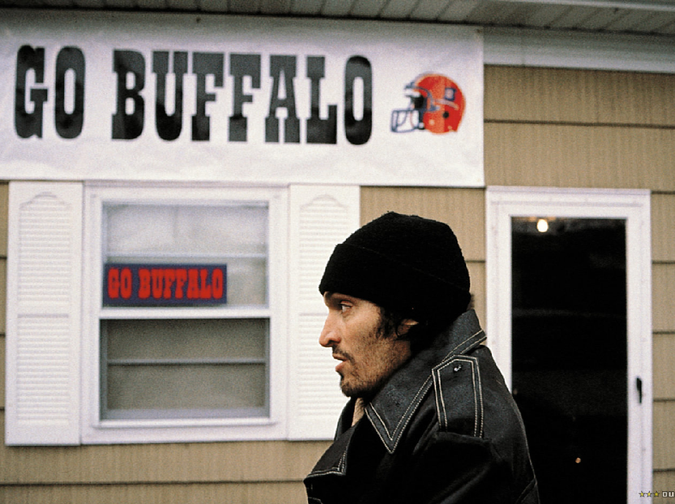 Buffalo is the saddest, most victimized, most put-upon and tortured sports city in America. I honestly can't believe we're having this conversation. Probably the only reason we are is because the NFL's Bills have been bottom-dwellers for so long that people have started to take their failure for granted. Back in the '90s, Buffalo's four consecutive Super Bowl losses made the city synonymous with sports futility. The true tragedy of the Buffalo sports fan, however, lies in the people who every year come back with the glimmer of hope that this is the year things all turn around. I call those people "Dad." 
Buffalo is merely a two-sport town, so sometimes their futility gets lost amid cities like Cleveland and Minneapolis who have been failing in more sports. But sports failure is about quality, not quantity. And between the Bills and the NHL's Sabres, Buffalo has reaped the following: Four consecutive Super Bowl losses, one of which occurred after an agonizing missed field goal on the final play, a game so notorious it managed to inspire the plots of a
Jim Carrey movie
and
 a
Vincent Gallo movie
, not to mention a throwaway line in one of the most famous 
X-Files
 episodes of all time, wherein it was revealed that the Cigarette Smoking Man was responsible for the Bills' historic failures; Suffered a six-month span in 1999-2000 wherein the Bills lost a playoff game via the most improbable [
Ed. Note: probably illegal
]
football play
since the Immaculate Reception AND lost the Stanley Cup Finals via
a goal
that VERY CLEARLY should not have been allowed. The Bills won back-to-back AFL titles in 1964 and 1965 ... the last two years before the Super Bowl existed. The Sabres squandered the best record in the NHL in 2006/07. They've failed to deliver titles to all-time great athletes like Jim Kelly, Thurman Thomas, Bruce Smith, and Dominik Hasek. The most famous athlete to have ever played in Buffalo was O.J. Simpson. We're constantly victimized by weather bigotry, where talented players won't play in the cold weather. We're constantly under threat of our team leaving the comparably small and less prosperous Buffalo for apathetic nightmare towns like Toronto and Los Angeles. Jon Bon Jovi and Donald Trump want to buy the Bills AS WE SPEAK. I honestly could go on, but let's boil things back down to the basics: four consecutive Super Bowl losses. Vincent Gallo. O.J. Simpson. —
Joe Reid