In honor of March, the bracket-iest month of the year, The Wire decided to go all out and create a tournament for everything. Every weekday for the rest of the month, we're presenting a different tournament to determine the very best (or worst) thing in a given field. And we're doing it the way that God intended: Bracket showdowns.
Bracket Madness. A new bracket, every weekday of March.
We picked the field, but you vote for the winner. Fill out our interactive bracket, round-by-round, to determine the people's champion, then read through our choices to find out who we think is the best of the best. Each day is a new champion!
The decision of where to lunch can destroy relationships, pit brother against brother, or — in good times — unite the most quarrelsome of enemies in a common cause. Particularly, when that lunch involves one our nation's glorious fast food establishments.
KFC vs. Popeyes. Wendy's vs. Burger King. Shake Shack vs. In-N-Out. McDonald's fries vs. Five Guys' fries. These are debates that divided a nation. It's not pretty, but I've seen arguments get pretty heated as people defend those establishments as if they were kin. Regional alliances and plain good taste are stake. Here's your chance to settle these fast food arguments once and for all, and let us know which one you'd want as your last meal.
One note, before we begin. There have even had some heated debates about the very definition of a "fast food" restaurant, but we've settled on a generous interpretation of the term to be as inclusive as possible. (Quick service, no wait service, no tipping, and to-go orders are all standard features.) Nationwide availability helps, too, but many of the fiercest loyalties are to those place you can only find in your own back yard. Here we go:
The Contenders 
Arby's: While the chain loves to tout their roast beef sandwiches, everyone knows that the one thing that Arby's really nails is curly fries.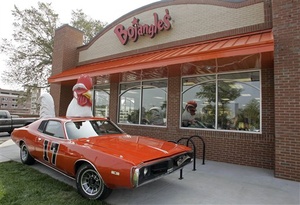 Bojangles': There are two things to order at Bojangles': 1) the cajun chicken biscuit with hot sauce and 2) the dirty rice. I am convinced that those two items could bring people back from the dead. Unfortunately, Bojangles' restaurants are mostly found in the Southeast meaning there are a lot of West Coasters and Yankees who have yet to taste this goodness. 
Burger King: People like the Whopper, right? Someone told me that. Once. 
Carl's Jr./Hardee's: Some people enjoy the Western Bacon Cheeseburger here (a cheeseburger smothered in sweet barbecue sauce topped with onion rings). I prefer their criss-cut fries and star-shaped chicken tenders. 
Checkers/Rally's: The Rally's by my childhood home was dubbed "Ratty's" by the cool kids in my middle school. That did not deter any of my classmates from eating their fries. 
Chick-fil-A: As a gay man, it pains me to say that Chick-fil-A is absolutely delicious and that I have it on rare occasions because I cannot say no to their waffle fries and spicy chicken sandwich. It makes sense right: if Chick-fil-A weren't delicious and so popular, no one would care about their owner's anti-gay politics.
Chipotle: I'm a Southern Californian who likes Chipotle. That might be sacrilege. However, I like Chipotle not because it's some pinnacle of Mexican food, but because it tastes like Chipotle (buttery rice, chewy tortilla, that salsa that might be salsa verde but isn't, the chopped grilled chicken). And Chipotle tastes good. 
Church's Chicken: The Wire's own Elspeth Reeve is from the South, and swears that their chicken and biscuits are as good if not better than some of the best fast food chicken out there. Again, she is from the South, we're trusting her judgment on this. 
Dairy Queen: The Blizzard is a wonderful summertime treat ... that should be enjoyed as much as possible even when it's not summer. If you can find a DQ that serves hot dogs and burgers too, then move next door.
Del Taco: A West Coast institution, this might be the only Mexican fast food joint that serves up delicious (relatively-speaking) tacos al carbon and chili cheese fries at the same place. 
El Pollo Loco: A Del Taco challenger, this is another California thing. Leave it to Californians to fawn over and turn a healthy thing like grilled chicken into fast food. 
Fatburger: If you've ever seen an episode of Real Housewives of Beverly Hills, you've probably seen Fatburger's sly product placement. Don't let this burger chain's association with Brandi Glanville sour you on their delicious goods.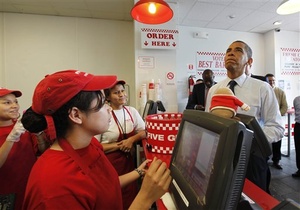 Five Guys: A regular burger at Five Guys is a double at most places. This is not a bad thing. Their cajun fries (which are served in a greasy over-stuffed cup) are the best food coma money can buy.
In-N-Out: In-N-Out's burgers, toasted buns, and that sauce are a treasure of the West Coast, and people who have tasted this goodness never let you forget it. (Nor will they stop talking about the not-so-secret Secret Menu.) The deliciousness of animal-style fries cannot be overlooked. 
Jack in the Box: The stoner's paradise. Variety is the name of the game at Jack in the Box, which has tacos, fajita pitas, sourdough burgers, curly fries, chicken sandwiches, milkshakes, and whatever else your inebriated little heart desires. 
KFC: Don't sleep on KFC. Forgive them for doing that grilled chicken silliness, because their original recipe with a side of potato wedges is salty goodness at its finest. 
Long John Silver's: I had a fried shrimp here and hushpuppies here once. It was a great meal, but haven't been to another one for the past 25 years. But how many fast food fish places do you even know of?
McDonald's: Year after year, we hear people complain about how gross McDonald's is. Yet, it's still the most popular burger joint in the world. Remember the pink slime nuggets? Supersize Me? Even with all these reasons not to eat McDonald's, the chain's chicken nuggets, cheeseburgers and fries here still haven't lost their allure. 
Panda Express: I'm biased because I'm Asian. I enjoy fast food that bears no resemblance to the food I eat at home. This is why I like Panda Express.  
Popeye's:  Every time I go to Popeye's I know I want spicy dark meat, fries, and then have a moment when I can't decide whether or not I want red beans and rice or if I want coleslaw. It's the toughest decision when you're in the mood not to respect your body, because the only wrong choice wouldn't be to order an extra side. 
Potbelly: A Midwestern invention, Potbelly is known for its Italian sandwich and very tasty cookies. If you haven't heard of them, you will soon because the chain is in the middle of a major expansion.  
Quizno's: Quizno's is like a Subway that got a makeover. If you're kinda snobby, there's a real chance that Quizno's might be a place you enjoy. 
Roy Rogers: There's one of these near Madison Square Garden. No one on The Wire staff has eaten here, but when you're on the highway somewhere in the middle of a state you can't identify, its comfort food might get you through.
Sbarro's: Sbarro's is like your second choice date to Homecoming. Sometimes your first choice at the mall food court has a monster line, but good old Sbarro's is there to comfort you with its sweaty pizza slices. But, like, at least you're eating right? 
Shake Shack: Savvy New Yorkers now that you can check for massive lines place at the flagship location via webcam, which might can shorten the amount of time it takes to get that delicious Double Shack Burger into your mouth. Even with expansion to other cities, this place remains insanely popular among the snobbiest New York foodies.
Sonic: After speaking to a former roller-skating Sonic employee and current Wire fellow, I was told that the real draws to Sonic are the desserts and drinks. Don't sleep on the tater tots though.
Subway: Subway gets bad rap. A lot of it is my fault. I'm sorry. 
Taco Bell: It seems like Taco Bell is constantly innovating. Good for them. But personally, I'd like to see less Doritos-inspired items and more work at toward perfecting their oh-so-close Mexican Pizza. 
Wendy's: Forget what the "new Wendy (the young cute redhead in commercials)" is trying to sell you (some flatbread object or something). Wendy's possesses the best spicy chicken sandwich in all the land.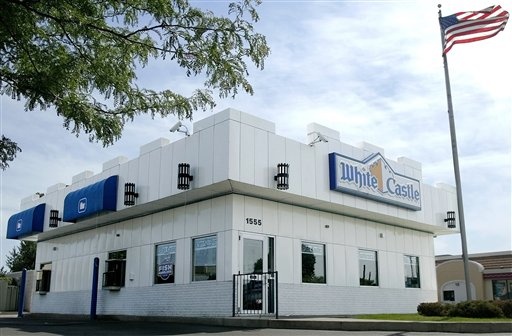 Whataburger: Another regional favorite that most Americans east of the Mississippi have never been. But the tales from those who have discovered have spread far and wide.
White Castle: Sometimes you don't want the glamorous burgers that they serve at Shake Shack or In-N-Out. Sometimes you need a dozen sliders at 2 a.m. and you need them now. That's where White Castle and its so-bad-they're-good burgers come in. 
Wienerschnitzel: Chili dogs aren't exactly the easiest thing to make appealing. They just aren't the most aesthetically-pleasing fast food. Wienerschnitzel sells plenty of them a day in spite of this. And perhaps that's a testament to the little chain that could. 
---
Your Vote: Chipotle
---
The Wire's Vote
Round of 32
Bojangles' vs. Church's: The world would be better if every person had a taste of Bojangles' Cajun Filet Biscuit. It is a hangover cure. Winner: Bojangles'
Potbelly vs. Subway: Potbelly is everything that Subway should be but isn't. If you take each sandwich head-to-head Potbelly destroys the pioneer of fast food sandwiches. Winner: Potbelly
Sonic vs. Dairy Queen: Blizzards vs. ice cream and limeade? Let's go with the Blizzard.  Winner: Dairy Queen
Wendy's vs. Arby's: If Arby's roast beef were as good as its curly fries, Arby's would have this in the bag. Wendy's chicken sandwich and nuggets are just too tough to beat. Winner Wendy's
El Pollo Loco vs. Long John Silver's: A battle between two cuisines that shouldn't really be fast food. El Pollo Loco wins based on the number of repeat visits.  Winner: El Pollo Loco 
McDonald's vs. Burger King: I or anyone on the subway could name five things I'd order from McDonald's. Burger King, not so much. Winner McDonald's
Five Guys vs. Fatburger: Nothing against Fatburger, but Five Guys is a tried and proven medicine when it comes to hangovers. Winner: Five Guys
KFC vs. Popeye's: If you're having a fried chicken meal for dinner, it's probably going to be a night in. And if that's the case, I'll have an extra helping of red beans and rice. Winner: Popeye's 
Shake Shack vs. In-N-Out: Shake Shack's wait times can be ridiculous. If you're at In-N-Out and waiting that long, at least you're in the car and are shielded from bad weather, the heat, or snow. Winner: In-N-Out 
Del Taco vs. Taco Bell Winner: Chili cheese fries > any side dish Taco Bell Has. Winner: Del Taco
Wienerschnitzel vs. Quiznos: Hot dogs don't get enough love. Neither does Wienerschnitzel. That changes today. Winner: Wienerschnitzel
White Castle vs. Checkers: The appropriate question here is: how inebriated are we? I'm convinced I would rather be inebriated at a White Castle. Winner: White Castle
Panda Express vs. Sbarro's: True mallrats know Panda Express is the better bet, even though it has the longer line. Winner: Panda Express
Carl's Jr. Vs. Jack in the Box: Carl's Jr.'s Western Bacon Cheeseburger is hit or miss. If you strike out at Jack in the Box, there's probably something that you order or could order that would appeal to your taste. Winner: Jack in the Box
Whataburger vs. Roy Rogers: That Madison Square Garden restaurant is bleak y'all. Winner: Whataburger
Chipotle vs. Chick-fil-A: It would give me a clear conscience to let Chipotle win, but in my heart of hearts I know that can't happen. Winners: Chick-fil-A
---
The Sweet 16
Bojangles' vs. Potbelly: I would trade the four Potbellies that have peppered my neighborhood for one serving of Bojangles' dirty rice. Winner: Bojangles'
Dairy Queen vs Wendy's: Wendy's has a spicy chicken sandwich and the Frosty. Checkmate.Winner: Wendy's
El Pollo Loco vs. McDonald's: Fast food shouldn't be healthy or make you feel healthy. Long live McDonald's fries and the endless amount of shame you feel afterward. Winner: McDonald's
Five Guys vs. Popeye's: This is a tough one and it comes down to the dining experience. The Popeye's I've been to aren't places to linger. Five Guys is like eating at your irresponsible, but kinda cool uncle's house— help yourself to peanuts, more soda, whatever you want.  Winner: Five Guys
In-N-Out vs. Del Taco Winner: Del Taco's magic run ends here. Nothing on their vast menu comes close to an In-N-Out burger. Winner: In-N-Out
Wienerschnitzel vs. White Castle: Wienerschnitzel wins because it tastes pretty good even when you're not drunk or stoned. Winner: Wienerschnitzel
Panda Express vs. Jack in the Box:  Jack in the Box has so many things on its menu that I wouldn't be surprised if there's Panda Express section on it. Winner: Jack in the Box
Whataburger vs. Chick-fil-A, Winner: Chick-fil-A wins again solely because of the fact because it really makes me question my morals and integrity. It's that good. Winner: Chick-fil-A
---
The Elite Eight
Bojangles' vs. Wendy's: You want spicy chicken for breakfast? You go to Bojangles'. I'm not sure Wendy's even has a breakfast menu. Winner: Bojangles'
McDonald's vs. Five Guys: Better burgers get you wins at this point in the competition. Winner: Five Guys
In-N-Out vs. Wienerschnitzel: Wienerschnitzel, no hard feelings. Okay?  Winner: In-N-Out
Jack in the Box vs. Chick-fil-A: With Chick-fil-A matchups, the question comes down to which fast food joint would you give away a gay civil right for (or come close to.) Jack in the Box is the first one that comes close to Chick-fil-A. Winner: Jack in the Box
---
The Final Four
Bojangles' vs. Five Guys: Having great, buttermilk fried chicken (a rarity in this category) gets you further than big burgers. Winner: Bojangles'
In-N-Out vs. Jack in the Box Winner: In-N-Out does a couple things exceptionally well, while Jack is a jack of all trades. The win goes to the exceptional at this point in the bracket. Winner: In-N-Out
---
The Championship
Bojangles' vs. In-N-Out: By the time you read this, I will already be in hiding. I am betraying my West Coast roots and understand that I am now considered the Benedict Arnold of fast food, but those biscuits... Winner: Bojangles'