Today's Olympic slate has a lot of hockey on it; specifically, all four quarterfinal games. The U.S. faces off against the Czech Republic at noon, if you were wondering.
Elsewhere, the women's two-man runs conclude with runs three and four. American Lauryn Williams could become the second person in history to win gold at both the Summer and Winter Olympics (Williams last won gold in 2012 in the 4x100m relay). The only other person to accomplish such a feat is Eddie Eagan of the U.S. with gold in both the 1920 Antwerp Summer Games and the 1932 Lake Placid Winter Games.
Curling, the sport of kings, moves out of prelims and into the semifinals. Fun fact: the curling facility is called the Ice Cube Curling Center, but it is, for some reason, not named after the rapper/actor.
Later in the day, the women's figure skating short program gets going. Kim Yu-na of South Korea looks to defend her title, and could be the first back-to-back champion in at least two decades.
--
2:45 p.m.: So with Day 12 complete, here's where we stand medal-wise. With two golds today (in Cross Country and Biathlon), Norway has assumed command of the Gold medal count over Germany. But the two bobsled medals by the U.S. has pushed them ahead of Russia and the Netherlands, for the most overall medals. The Americans also continued their streak of winning at least one medal on every day of the Sochi Games.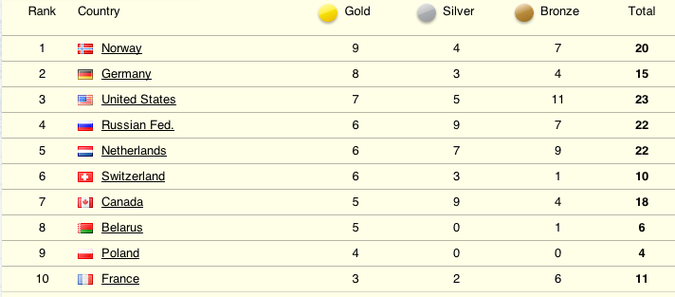 2:35 p.m.: The Olympic day has ended with the completion of the Ladies' Short Program in Figure Skating. Defending champion Yuna Kim was nearly perfect in landing the top spot, with Adelina Sotnikova (Russia), Carolina Kostner (Italy), and Gracie Gold (USA) right behind. The other favorite Yulia Lipnitskaya fell, but is in fifth place and still has a shot at the podium. Two other Americans, Ashley Wagner and Polina Edmunds are 6th and 7th. The free skate is tomorrow.
2:28 p.m.: RESULTS: In other hockey results, Canada survived a heart-attack inducing nailbiter against Latvia, even overcoming a non-call on an illegal save by Latvia, to win 2-1. They will face the Americans in the semi-final on Friday. (Sweden will meet Finland in the other.)
w o w http://t.co/8MCwAGaStp

— Steph (@myregularface) February 19, 2014
1:40 p.m.: RESULTS: Americans Lauryn Williams and Elana Meyers took silver in bobsled, ending Williams' hopes of becoming the second person to win gold at both the Summer and Winter Olympics. Still, Williams can claim to be the best track-star-turned-bobsledder out there; Lolo Jones, along with her teammate Jazmine Fenlator, finished in 11th place.
Including Williams-Meyers, the top three finishers all hail from North America. Canada won gold with a narrow 0.10 second advantage on Williams and Meyers, and Americans Aja Evans and Jamie Greubel finished with the bronze medal one second behind the leaders.
11:03 a.m.: RESULTS: The Netherlands nabbed two more medals at the women's 5,000m speed skating event, but lost the gold to Czech Republic. Martina Sablikova won the gold, Ireen Wust the silver and Carien Kleibeuker bronze.
In other news, the Russian hockey team won't be competing for a medal following today's loss. The news has made for a lot of "very sad Russians:"
Very sad Russians all throughout the Olympic Park. Russia men's hockey knocked out of the Olympics, beaten by Finland, 3-1. #sochi2014

— Juliet Macur (@JulietMacur) February 19, 2014
8:54 a.m.: The Ukrainian Olympic team has asked the IOC for permission to wear black armbands in honor of those killed during yesterday's protests. The request was denied, citing Olympic policy against any form of political expression.
8:16 a.m.: Bode Miller, who was expected to compete in one more Olympic race, has dropped out of this weekend's Slalom, after injuring his knee in today's Giant Slalom. That likely also means the end of his Olympic career. At 36, he is already the oldest skiier to ever win an Alpine medal at the Olympics, but also has more skiing medals than any other American, with six.
8:06: a.m.: Next up at 8:30 a.m. Eastern? The Netherlands goes for more hardware in speed skating in the Women's 5,000m.
8:05 a.m.: RESULTS: Two more Gold medals to tell you about, the Team Sprint Classic, men's and women's in Cross Country. Norway wins the women's race, but missed the podium in the men's. That went to Finland, with Russia and Sweden in second and third. Finland also got Silver in the women's race, and Sweden took Bronze.
7:58 a.m.: RESULTS: There's also a Giant Slalom in Snowboard, in case you weren't aware. Switzerland's Patrizia Kummer won gold in the women's version. Japan's Tomoka Takeuchi got Silver and Russia got a bronze from Alena Zavarzina. Meanwhile, Zavarzina's husband, Vic Wild, won the men's version. Wild is actually an American by birth, but moved to Russia (and gained citizenship there) after marrying Zavarzina in 2011. Traitorous or romantic? You decide.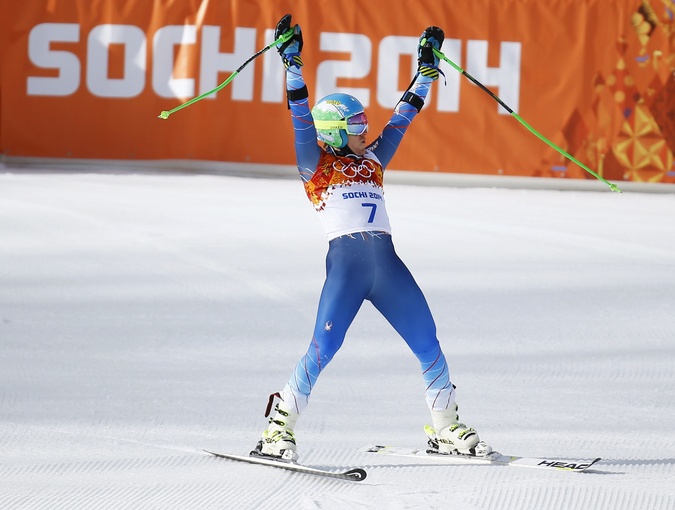 6:45 a.m.: RESULTS: Ted Ligety earned the U.S. its first gold medal in Alpine skiing this Olympics when he took first place during today's giant slalom event. Ligety's victory comes as no surprise -- he's the world champion in the sport, and is a four-time winner of the World Cup giant slalom standings. Ligety was followed by France's Steve Missillier, who won the silver medal, and Alexis Pinturault, also from France, who got the bronze. 
--
Here's the medal count at the start of day 12. Germany's once again in the lead.
--
Wednesday's Schedule of Events (All listed times are Eastern):
Snowboarding Men's and Women's Parallel Giant Slalom Qualifying: 12:15 a.m.
Snowboarding Men's and Women's Parallel Giant Slalom Final: 4 a.m.
Alpine Skiing Men's Giant Slalom Run 1: 2 a.m.
Alpine Skiing Men's Giant Slalom Run 2: 5:30 a.m.
Men's Ice Hockey Quarterfinals, Slovenia vs. Sweden: 3 a.m.
Cross-Country Men's and Women's Team Sprint Session 1: 4:15 a.m.
Cross-Country Men's and Women's Team Sprint Session 2: 6:45 a.m.
Curling Women's Semifinals, Sweden vs. Switzerland 5 a.m.
Curling Women's Semifinals, Great Britain vs. Canada 5 a.m.
Men's Ice Hockey Quarterfinals, Finland vs. Russia: 7:30 a.m.
Speed Skating Women's 5,000m: 8:30 a.m.
Biathlon Mixed Relay: 9:30 a.m.
Curling Men's Semifinals, Sweden vs. Great Britain: 10 a.m.
Curling Men's Semifinals, Canada vs. China: 10 a.m.
Figure Skating Women's Short Program: 10 a.m.
Bobsled Women's Two-Man Runs 3-4: 11:15 a.m.
Men's Ice Hockey Quarterfinals, Canada vs. Latvia: 12 p.m.
Men's Ice Hockey Quarterfinals, United States vs. Czech Republic: 12 p.m.