Every two years, we're treated to a Monday that just feels worse than usual. We are officially suffering from the post-Olympics Monday Hangover that comes on the first empty morning after two straight weeks of waking up to non-stop sports, medals, and heartbreaking drama. Since today is one of those Mondays, we'll try to get through it by looking back on our favorite memories from the Sochi Winter Olympics. 
Here are The Wire's most memorable moments and don't forget to check out our choices from the first week of the Games as well.
Mao Asada's Goodbye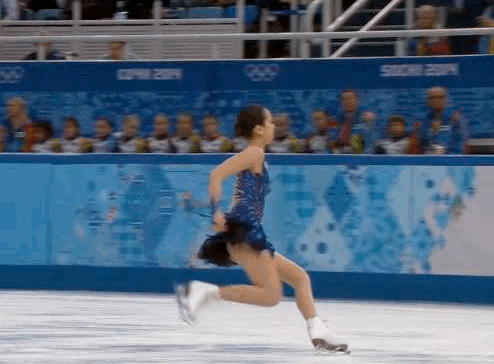 These Olympics were the last hurrah for some of the most dominant skaters of the last few years. Yuna Kim, the queen of ladies figure skating, said this was her last go. Carolina Kostner, the bronze medalist from these Games, is pretty much a guarantee too. Tessa Virtue and Scott Moir, the two time medalists from Canada said they would likely retire. And everyone is assuming that Meryl Davis and Charlie White are going to hang up their skates after a long career, too. That's seven Olympic medals, and a slew of world championships from the last two years. I've enjoyed watching these people skate, and probably rooted for all of them at one time or another. 
But I'm not going to miss them the way I will miss Mao Asada from Japan. Asada was arguably the best skater in the world in 2006, but was too young to compete at the Winter Games. So she stuck around for Vancouver, where she came in second place after two tremendous performances from Kim. Not content with that finish she waited another four years, a period of time which also saw the death of her mother, to compete in Sochi. And during that time she was pestered over and over about when she would retire.
Fast-forward to last week's short program where Asada turned in one of the most dismal performances of her life and found herself in 16th place. Asada could have crumbled. But she didn't. In her free skate, she didn't back down. She hit her triple axel (the only woman in the competition to do so) and gave the most breath-taking performance of the night and climbed all the way to 6th place. Asada hasn't always been my favorite. But I will miss her the most. — Alexander Abad-Santos
When Ukraine Stopped Russia
Much of the drama that comes out of the Olympics arrives when two nations that are actually dangerous rivals in the real world face off in the athletic arena. Fans can't help but project the conflicts of war and diplomacy on to a simple ski race, even though deep down we know that the outcome is largely irrelevant in a world where people are dying to defend their country. Still, we couldn't help but be moved on Friday afternoon, when the Ukrainian women's biathlon relay team, knowing their country was on the verge of civil war and that fellow citizens back home were dying in the streets, pulled off a steady, focused, and inspirational performance and won their nation's only gold medal in Sochi. The team they held off? The one that challenged them the whole way, but was forced to settle for second place? The Russians. Of course. — Dashiell Bennett
The Comeback Kid: Noelle Pikus-Pace
You have to be made of stone to not get teary over Noelle Pikus-Pace's silver medal in skeleton. The mom of two came back in a big way after a runaway bobsleigh crushed her leg in 2005. She missed the bronze by one-tenth of a second at the 2010 Vancouver Games, but gave it one more shot in 2014. So woohoo, Noelle! This is one of those guts-and-determination stories that makes the Olympics great. — Allie Jones
The Pair
One of my favorite Olympic moments has to be Meryl Davis and Charlie White taking the gold medal in the ice dance competition. Of course, it was written in the stars (and on NBC) that these two would be stars: a pair since they were kids, they were beaten in 2010 by their rivals Tessa Virtue and Scott Moir. This was their year to shine. And shine they did. They were just mesmerizing to watch, making ice dancing—so frequently ridiculed—look both graceful and challenging. There was no denying (sorry, Canada) that they were the best. I will always remember my two weeks of Meryl and Charlie fangirling. My other favorite Olympic moments weren't exactly athletic. Johnny and Tara's hair, for instance. Gus Kenworthy's puppies. But Meryl and Charlie were pure Olympic glory. — Esther Zuckerman
God Save Great Britain
While nothing will ever beat the 2012 Summer Olympics in London, which miraculously transformed my perpetually grumpy home nation into a country of giddy Olympic enthusiasts for approximately three weeks. But Team GB proved they were still capable of making history in Sochi. Jenny Jones made sure of that by giving Great Britain their first ever Winter Olympics medal on snow by taking the bronze in slopestyle, all while being the oldest competitor in the group. The press in the U.K. is particularly taken with Jones and the laundry list of jobs she took before full-time snowboarding sponsorship: a chalet maid, a stint in a donut shop, working in a bar, and in a cardboard factory. Jones' victory is part of Team GB's best medal haul ever at the Winter Olympics, with the grand total of four. It's far off from the USA's 27 medals, but quite impressive considering the last time was took home that many it was 1924. That was 90 years ago. — Lucy Westcott
O' Canada
The Olympics is about abandoning the usual headache-inducing political trappings of the real world in favor for sportsmanship and competition on a very base, physical level. Who can run (on ice with fancy shoes) faster? Who can jump (off a cliff wearing pieces of special wood) higher? Without question Canada performed better than almost any other country, finishing third in golds, fourth in overall medals, and first in your heart. 
Admit it. You cried a little when Alex Bilodeau embraced his brother after winning gold. Your heart grew three sizes when the Canadian cross country coach helped a Russian replace a broken ski so he could finish a race in front of his home country. There is some hope for the future, you said, when Gilmore Junio dropped out of a speedskating competition because he thought his teammate, Denny Silverman, gave his country a better chance to perform. Junio was right: Silverman won silver, and then carried his teammate into the closing ceremonies on his shoulders. Canada produced enough television-ready, pull at your heart strings genuine moments of real feeling, to run a two-hour primetime special. Or at least fill a decent Buzzfeed listicle.  Canada dominating hockey and curling in both men's and women's competition was the delicious icing on the "We're the Best" cake that was Sochi. It's expected to happen, but almost never does, and so these Olympics were special.  — Connor Simpson
Learning to Love Hockey
I'm from Florida, where hockey is as foreign as sane courtroom jury decisions. And yet every four years I find myself entranced by Olympic hockey. It's not just a show of patriotism; the speed, toughness, and stick skills were all so impressive the entire tournament that I found myself watching the Finland-Sweden match just on its own merits. Despite this, as soon as the Olympics ends I'll likely go back to changing the channel when hockey comes on ESPN. But for these past two weeks, the men's and women's hockey battles were prime TV, an awesome show of the fast-paced, commercial-less, technical talents of the NHL. Canada, I now understand why you have such crazed fans.— Eric Levenson
The Ballerina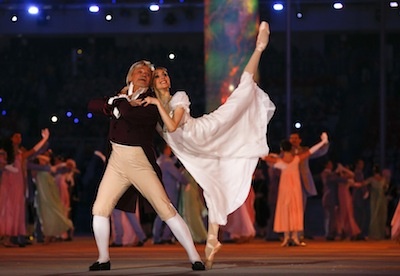 The athletes were amazing, of course, but the moment that was truly breathtaking for me was in the opening ceremony, when Svetlana Zakharova, the prima ballerina for the Bolshoi, performed the ballroom scene from War and Peace. She's incredibly flexible and perfectly fluid. Even the most elegant figure skaters can't come close to matching the beauty of Zakharova's movements. — Elspeth Reeve
Tonya and Nancy Forever
At some point during the week, once it became clear that the men's and women's figure skating wasn't going to produce a truly satisfying conclusion (the men's free skate was too much of a mess to really get behind the medalists, and let's not even get into the women's gold medalist) the entire home stretch of the Games became a matter of waiting for Nancy & Tonya. ESPN's "30 for 30" documentary on the subject had already been a highlight of the year, TV-wise, and this one was not only going to feature a Nancy Kerrigan interview (which the ESPN doc did not) but also had Mary Carillo, one of the best things about any Olympics. Both films featured Harding in remarkably candid form, full of bitterness and resentment for the hand that life dealt her and the way the figure-skating establishment never wanted anything to do with her. While the NBC one was maybe a little too fawning over Nancy (ohhh, she bought reporters pizza and cares for children!), and neither version of the story took enough of a detour down the Oksana Baiul route, the NBC doc did provide the single greatest moment of this (or any?) Olympics: present-day Tonya Harding in a shitkicker bar, belting out "Looking Through the Eyes of Love" like she was 1970s Melissa Manchester. It may not have anything to do with athletic achievement, but it takes the same amount of guts and determination. Give Tonya her gold at last. — Joe Reid